| Board Members | Audit | Compensation and Talent | Nominating and Governance | Science, Technology & Sustainability |
| --- | --- | --- | --- | --- |
| | | | | |
| | | | Nominating and Governance | |
| | | | Nominating and Governance | Science, Technology & Sustainability |
| | | | | Science, Technology & Sustainability |
| | | | Nominating and Governance | |
| | | | | |
| | | | | |
| | | | | Science, Technology & Sustainability |
| | | | | |
| | | | | Science, Technology & Sustainability |
| | | | Nominating and Governance | |
| | | | Nominating and Governance | |
Committee Charters
Compensation and Talent Committee Charter
Nominating and Governance Charter
Science, Technology & Sustainability Committee Charter
Michael F. Roman
Mike Roman is chairman of the board and chief executive officer of 3M, a $35 billion science and manufacturing company that improves lives around the world. 3M leverages its 51 technology platforms to create differentiated solutions for customers through four business groups: Safety & Industrial, Transportation & Electronics, Health Care, and Consumer.
The company's 96,000 employees are united by a common purpose: unlocking the value of people, science, and ideas to re-imagine what is possible. 3M's purpose drives its performance, and the company is advancing four strategic priorities to support long-term value creation: Portfolio Management, Transforming the 3M Operating Model, Growth through Innovation, and People and Culture. The company's financial objectives include continuing to grow above the markets it serves, expand margins and generate strong cash flow. 3M has increased its dividend for 64 straight years.
Under Mike's leadership, 3M has also helped lead the world's response to COVID-19, which includes distributing more than 4 billion respirators to protect nurses, doctors and first responders. The company is strengthening environmental stewardship with a $1 billion commitment to achieve carbon neutrality, reduce water use, improve water quality and reduce its use of plastics. 3M is advancing diversity, equity and inclusion with a pledge to double its representation of underrepresented groups, along with new initiatives to strengthen STEM education. For nine straight years, 3M has been recognized by Ethisphere as one of the World's Most Ethical Companies.
Mike became chairman of the board in May 2019 and chief executive officer in July 2018. He previously served as chief operating officer, led 3M's largest business group and was chief strategist. Throughout Mike's career, he has lived and led businesses around the world, including the United States, Europe and Asia. He joined 3M in 1988 as a senior design engineer.
Mike holds a master's degree in Electrical Engineering from the University of Southern California, and a bachelor's degree from the University of Minnesota. He serves on the board of Abbott Laboratories and on the University of Minnesota Foundation Board of Trustees. Mike and his family enjoy a variety of physical fitness and outdoor activities. As a former "Big," Mike is a long-time supporter of Big Brothers Big Sisters of America.
Thomas K. Brown
Retired Group Vice President, Global Purchasing, Ford Motor Company, a global automotive industry leader. Mr. Brown served in various leadership capacities in global purchasing since joining Ford in 1999. In 2008, he became Ford's Group Vice President, Global Purchasing, with responsibility for approximately $90 billion of production and non-production procurement for Ford operations worldwide. He retired from Ford on August 1, 2013. From 1997 to 1999 he served in leadership positions at United Technologies Corporation, including its Vice President, Supply Management. From 1991 to 1997 he served as Executive Director, Purchasing and Transportation at QMS Inc. From 1976 to 1991 he served in various managerial roles at Digital Equipment Corporation. Mr. Brown is on the board of the following public company in addition to 3M: Tower International, Inc.
Director since 2013.
Audrey Choi
Retired Chief Sustainability Officer and Chief Marketing Officer of Morgan Stanley. Ms. Choi was Morgan Stanley's first Chief Sustainability Officer and a member of the firm's Management Committee from 2017-2022, overseeing sustainability for a global financial services firm with offices in 41 countries. She was also Chief Marketing Officer from 2017-2021. Over the course of her 16-year career at Morgan Stanley, she founded and led the Global Sustainable Finance Group, the Institute for Sustainable Investing, and the Community Development Finance Group. Prior to joining Morgan Stanley, she served in senior policy positions in the U.S. Government's Executive Branch, including as Chief of Staff of the Council of Economic Advisers in the White House. Ms. Choi has a long record of service in the philanthropic and non-profit sector, including as a board member of the Sustainable Accounting Standards Board (SASB), Wildlife Conservation Society, StoryCorps, Local Initiatives Support Corporation, New York Cares, the Impact Investing Alliance, and the Kresge Foundation. She is a frequent speaker on sustainable investing, economic development, and public-private partnerships.
Director since 2023
Anne H. Chow
Retired, Chief Executive Officer of AT&T Business, an organization that provided a full suite of business services across wireless, networking, cybersecurity, and advanced solutions, serving nearly 3 million business customers in more than 200 countries and territories around the world. Ms. Chow served as the CEO of AT&T Business from 2019 to 2022 after having served in various executive leadership positions at AT&T since 2000. She has led global organizations through major transformations with decades of strategic and operational experience serving the business marketplace, including roles as president, AT&T National Business and president, and AT&T Integrator Solutions. Ms. Chow also has a long track record of community leadership involvement in strategic board and advisory work focused on driving success at the intersection of people, culture, and technology. She currently serves as Adjunct Professor of Executive Education at the Kellogg School of Management, Northwestern University, and is currently a member of the Dallas Mavericks Advisory Council, Business and Community Advisory Council of the Federal Reserve Bank of Dallas, and the Committee of 100. Ms. Chow is on the board of the following public company in addition to 3M: FranklinCovey.
Director since 2023
David B. Dillon
Retired Chairman of the Board and Chief Executive Officer The Kroger Co., a large retailer that operates retail food and drug stores, multi-department stores, jewelry stores, and convenience stores throughout the U.S. Mr. Dillon retired as Kroger's Chairman of the Board on December 31, 2014, where he was Chairman of the Board since 2004 and was the Chief Executive Officer from 2003 through 2013. Mr. Dillon served as President from 1995 to 2003 and was elected Executive Vice President in 1990. Mr. Dillon served as a Director of the Kroger Co. from 1995 through 2014. Mr. Dillon began his retailing career at Dillon Companies, Inc. (later a subsidiary of The Kroger Co.) in 1976 and advanced through various management positions, including its President from 1986-1995. Mr. Dillon is on the board of the following public company in addition to 3M: Union Pacific Corporation.
Director since 2015
Michael L. Eskew
Retired Chairman of the Board and Chief Executive Officer, United Parcel Service, Inc., a provider of specialized transportation and logistics services. Mr. Eskew was appointed Executive Vice President in 1999 and Vice Chairman in 2000 before becoming Chairman of the Board and Chief Executive Officer of UPS in January 2002. He retired as Chairman of the Board and Chief Executive Officer at the end of 2007 but remained as a director of UPS until December 31, 2014.
Director since 2003
James R. Fitterling
Chairman and Chief Executive Officer of Dow, Inc., a leading global materials science company. Mr. Fitterling was named CEO-elect of Dow in March 2018 prior to becoming CEO in July 2018, and he was elected chairman in April 2020. Before that, he served as president and chief operating officer of Dow and also previously served as chief operating officer for the Materials Science division of DowDuPont. In his 35-year career with the company, he has played a key role in its transformation, from lower-margin, commodity businesses to one more deeply focused on higher-growth consumer demand-driven markets that value innovation. Under his leadership, the company has committed to providing much-needed innovation and resources to address key sustainability challenges such as plastic waste and climate change. Mr. Fitterling is also a passionate advocate for inclusion and diversity with a focus on diversifying Dow's global talent, enhancing innovation and the customer experience, and strengthening relationships in the communities the company serves.
Director since 2021
Amy E. Hood
Executive Vice President and Chief Financial Officer of Microsoft Corporation, a global technology company. Ms. Hood is responsible for leading the company's worldwide finance organization, including business operations, acquisitions, treasury, tax planning, global real estate, accounting and reporting, internal audit and investor relations. Ms. Hood joined Microsoft in 2002, and through her tenure with the company has advanced momentum in cloud and helped digitally transform the company. She is deeply involved in the company's operations, as well as the strategy development and overall execution of the company's successful acquisitions of LinkedIn and GitHub. For the past eight years, Ms. Hood has acted as a strategic partner to Microsoft CEO Satya Nadella, propelling long-term financial growth, championing culture and driving corporate initiatives including Microsoft's climate and affordable housing commitments, that have bolstered the company's broader ecosystem.
Director since 2017
Suzan Kereere
Head of Global Business Solutions, Fiserv, Inc., a leading fintech and payments company. Ms. Kereere has over 20 years of experience leading global businesses around the world, including in Europe, Australia, Asia and North America. Prior to her current role, Ms. Kereere served as Fiserv's Chief Growth Officer, leading strategy and business development to enhance client value and accelerate growth. She previously held executive leadership roles in global merchant sales and acquiring at Visa from 2016 to 2021. Ms. Kereere served in leadership positions at American Express from 1988 to 2016, including as head of its U.S. National Merchant Business and Global Network Business. Throughout her career she has led successful transformation, sales and customer initiatives at Fortune 100 companies across global business lines and regional high-growth start-ups. Ms. Kereere is also a longtime champion for equity and inclusion in business and society.
Director since 2022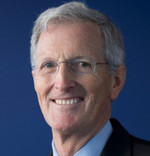 Gregory R. Page
Retired Chairman and Chief Executive Officer of Cargill. Mr. Page served as Executive Director of Cargill from 2015 to 2016, Executive Chairman from 2013 to 2015, Chief Executive Officer from 2007 to 2013, and President from 2000 to 2007. He was elected to the Cargill Board of Directors in 2000 and elected Chairman of the Board in 2007. He is past-chair of the board of Big Brothers Big Sisters of America, past president of the Northern Star Council of the Boy Scouts of America and continues to serve on both boards as well as the board of Alight (formerly known as the American Refugee Committee). Mr. Page is on the board of the following public companies in addition to 3M: Eaton Corporation, Deere & Company. Mr. Page also serves as non-executive Chairman of the Board of Corteva Agriscience.
Director since 2016
Pedro Pizarro
President and CEO, Edison International, the parent company of Southern California Edison (SCE), one of the nation's largest electric utilities, since 2016. Mr. Pizarro served as president of SCE from 2014 to 2016. Previously, Mr. Pizarro was president of Edison Mission Energy, an indirect subsidiary of Edison International, until the sale of its principal assets in 2014. He has held a wide range of other senior executive positions at the Edison International companies since joining in 1999. Mr. Pizarro is a vice chairman of the Edison Electric Institute, a director of the Electric Power Research Institute, a member of the Electricity Subsector Coordinating Council, and a Trustee of the California Institute of Technology. Before joining the Edison International companies, Mr. Pizarro was a senior engagement manager with McKinsey & Company. Mr. Pizarro is on the board of the following public company in addition to 3M: Edison International.
Director since 2023
Thomas Sweet
Retired Chief Financial Officer, Dell Technologies, an enterprise technology leader. Mr. Sweet joined Dell in 1997 and held various leadership positions before serving as Chief Financial Officer from 2014 - 2023. As CFO, he oversaw all aspects of the company's finance function, as well as global business operations, Dell Financial Services and Dell Technologies Capital. He also led corporate strategy, partnering closely with the office of the CEO to develop and execute a long-term growth and value creation strategy for the company. Before joining Dell Technologies, Mr. Sweet was vice president of accounting and finance for Telos Corporation. He currently serves on the Salvation Army of Central Texas Advisory Board. Mr. Sweet is on the board of the following public company in addition to 3M: Trimble.
Director since 2023